I'm sorry, I know I've been woefully absent lately. Or have I?
Mwahahaha!
I've been working around the clock...well that's not entirely true either. I've got a 40 hour/ week work-from-home job, a first grader, a 4-year-old who has only 3 short mornings of pre-school a week, and a husband who works a minimum of 60 hours a week. Oh yeah, and a house to try to not let fall into disarray. So, in actuality, I've been working every spare minute I can find to re-vamp my entire Simple City Sam face.
I've been at the Etsy and craft fair game now for almost two years. I've learned a lot in that time, too. The items that I was sure would sell, are still sitting on my product shelves in my sewing room. The item that I made as an after thought, with scraps on the first run, is one of my biggest sellers and helped launch my other biggest sellers. I've tried to listen to your feedback and the feedback at fairs. I like what I'm doing, in the broad sense. I work for myself (in this capacity), I get to sew and create, and then I get to interact with people and deal with sales. Great! Beyond that I'm happy to accommodate to what you all like. I'm a giver that way.
With that in mind, I set out to revamp the whole thing. I have chosen new, vibrant fabrics. Fabrics that read more, "me". They are colorful and sassy, need I say more?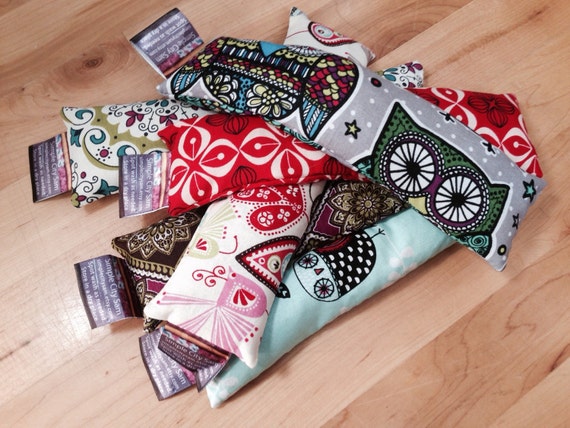 I designed and purchased cloth tags to sew into my products too.
I've stopped making pillows and large quilts for retail sale and am only taking custom orders for those now. Thanks to some of my most loyal customers this has become a necessity! I really like devoting time to the handmade quilts and even pairing them with the custom pillow, and I know you guys like having a say in your final piece.
I do still have time for the occasional throw or baby quilt though, so keep your eyes peeled. They don't always stick around too long.
And of course, there are a few stragglers, product left behind that (lucky for you) is now on sale in one way or another.

You know me, I like tidy shelves! I need more room for all the new stuff!! In addition to prettying up the Soothing Lavender Eye Pillows, Neck Wraps, and Back Pillows I also bumped up the Laundry Detergent production. I've even made a Vegan Detergent that is now available as well!

...and brought in a whole new item too!


This is just the sneakiest of sneak peaks. But these reusable market bags are an item I made as gifts that I then had just as many orders for. I love them!! They are so versatile. From Farmer's Markets to grocery stores, dog parks, to karate classes, these bags are a steal! Priced individually from $5-$20. All different sizes...and wallets and clutches!!
Watch the
Etsy store
closely, these posting will be live soon! Like the
FaceBook page
for links, updates, giveaways and COUPONS!!! Visit the shop to purchase or contact me for pricing or with ANY questions.
Thanks for hanging in there with me! Remember Easter and Mother's Day are right around the corner...and don't we all know someone about to have a baby?! Get your gifts now!!
Simple City Sam